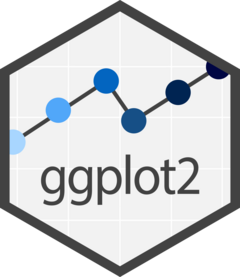 Changelog
Source:
NEWS.md
ggplot2 3.3.5
CRAN release: 2021-06-25
This is a very small release focusing on fixing a couple of untenable issues that surfaced with the 3.3.4 release
ggplot2 3.3.4
CRAN release: 2021-06-16
This is a larger patch release fixing a huge number of bugs and introduces a small selection of feature refinements.
ggplot2 3.3.3
CRAN release: 2020-12-30
This is a small patch release mainly intended to address changes in R and CRAN. It further changes the licensing model of ggplot2 to an MIT license.
Use vdiffr conditionally so ggplot2 can be tested on systems without vdiffr

Update tests to work with the new all.equal() defaults in R >4.0.3

Fixed a bug that guide_bins() mistakenly ignore override.aes argument (@yutannihilation, #4085).
ggplot2 3.3.2
CRAN release: 2020-06-19
This is a small release focusing on fixing regressions introduced in 3.3.1.
ggplot2 3.3.1
CRAN release: 2020-05-28
This is a small release with no code change. It removes all malicious links to a site that got hijacked from the readme and pkgdown site.
ggplot2 3.3.0
CRAN release: 2020-03-05
This is a minor release but does contain a range of substantial new features, along with the standard bug fixes. The release contains a few visual breaking changes, along with breaking changes for extension developers due to a shift in internal representation of the position scales and their axes. No user breaking changes are included.
This release also adds Dewey Dunnington (@paleolimbot) to the core team.
ggplot2 3.2.1
CRAN release: 2019-08-10
This is a patch release fixing a few regressions introduced in 3.2.0 as well as fixing some unit tests that broke due to upstream changes.
position_stack() no longer changes the order of the input data. Changes to the internal behaviour of geom_ribbon() made this reordering problematic with ribbons that spanned y = 0 (#3471)
Using qplot() with a single positional aesthetic will no longer title the non-specified scale as "NULL" (#3473)
Fixes unit tests for sf graticule labels caused by chages to sf
ggplot2 3.2.0
CRAN release: 2019-06-16
This is a minor release with an emphasis on internal changes to make ggplot2 faster and more consistent. The few interface changes will only affect the aesthetics of the plot in minor ways, and will only potentially break code of extension developers if they have relied on internals that have been changed. This release also sees the addition of Hiroaki Yutani (@yutannihilation) to the core developer team.
With the release of R 3.6, ggplot2 now requires the R version to be at least 3.2, as the tidyverse is committed to support 5 major versions of R.
ggplot2 3.1.0
CRAN release: 2018-10-25
Breaking changes
This is a minor release and breaking changes have been kept to a minimum. End users of ggplot2 are unlikely to encounter any issues. However, there are a few items that developers of ggplot2 extensions should be aware of. For additional details, see also the discussion accompanying issue #2890.
In non-user-facing internal code (specifically in the aes() function and in the aesthetics argument of scale functions), ggplot2 now always uses the British spelling for aesthetics containing the word "colour". When users specify a "color" aesthetic it is automatically renamed to "colour". This renaming is also applied to non-standard aesthetics that contain the word "color". For example, "point_color" is renamed to "point_colour". This convention makes it easier to support both British and American spelling for novel, non-standard aesthetics, but it may require some adjustment for packages that have previously introduced non-standard color aesthetics using American spelling. A new function standardise_aes_names() is provided in case extension writers need to perform this renaming in their own code (@clauswilke, #2649).

Functions that generate other functions (closures) now force the arguments that are used from the generated functions, to avoid hard-to-catch errors. This may affect some users of manual scales (such as scale_colour_manual(), scale_fill_manual(), etc.) who depend on incorrect behavior (@krlmlr, #2807).

Coord objects now have a function backtransform_range() that returns the panel range in data coordinates. This change may affect developers of custom coords, who now should implement this function. It may also affect developers of custom geoms that use the range() function. In some applications, backtransform_range() may be more appropriate (@clauswilke, #2821).
New features
coord_sf() has much improved customization of axis tick labels. Labels can now be set manually, and there are two new parameters, label_graticule and label_axes, that can be used to specify which graticules to label on which side of the plot (@clauswilke, #2846, #2857, #2881).

Two new geoms geom_sf_label() and geom_sf_text() can draw labels and text on sf objects. Under the hood, a new stat_sf_coordinates() calculates the x and y coordinates from the coordinates of the sf geometries. You can customize the calculation method via fun.geometry argument (@yutannihilation, #2761).
Minor improvements and fixes
ggplot2 2.2.1
CRAN release: 2016-12-30
Fix usage of structure(NULL) for R-devel compatibility (#1968).
ggplot2 2.1.0
CRAN release: 2016-03-01