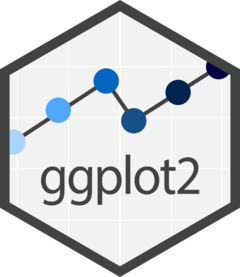 FAQ: Customising
Source:
vignettes/articles/faq-customising.Rmd
faq-customising.Rmd
Colours
How can I change the background colour of plot?
Set the color in panel.background element of theme() with element_rect(), which takes arguments like fill (for background fill color) and colour (for background border color.
See example

You can set the background colour of the plot with panel.background in theme(). In the following example the border is made thicker with linewidth = 3 to

If you want to change the colour of the plotting area but not the panel where the panel, you can so the same thing with plot.background.

Note that ggplot2 has a variety of complete themes that might already do what you're hoping to accomplish. For example, if you prefer a more minimal look to your plots, without the grey background, you might try theme_minimal().

And you can continue customization based on one of these themes.

You might also find the thematic package useful for simplified theming of your plots.
How can I change the colour NAs are represented with in a plot?
You can set the color of NA with the na.value argument in the appropriate scale_*() function, e.g. scale_fill_discrete(na.value = "purple") to make NAs purple.
See example

Suppose you have the following data frame with two discrete variables, one of which has an NA.

By default, ggplot2 uses grey to represent NAs.

You can change the color of NA with scale_fill_discrete() in this case, e.g. make it purple.

You can also set the color to "transparent". In the plot below this is shown with theme_minimal() to demonstrate how that looks on a plot with a transparent background. Note that while this is possible, setting the colour to transparent as such wouldn't be recommended in this particular case as it gives the appearance of a floating bar.