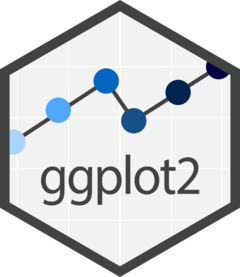 Control aesthetic evaluation
Source:
R/aes-evaluation.R
aes_eval.Rd
Most aesthetics are mapped from variables found in the data. Sometimes, however, you want to delay the mapping until later in the rendering process. ggplot2 has three stages of the data that you can map aesthetics from, and three functions to control at which stage aesthetics should be evaluated.
after_stat() replaces the old approaches of using either stat(), e.g. stat(density), or surrounding the variable names with .., e.g. ..density...
Usage
# These functions can be used inside the `aes()` function




# used as the `mapping` argument in layers, for example:




# geom_density(mapping = aes(y = after_stat(scaled)))





after_stat

(

x

)





after_scale

(

x

)





stage

(

start 

=

 

NULL

, after_stat 

=

 

NULL

, after_scale 

=

 

NULL

)
Arguments
x

start

after_stat

after_scale
Staging
Below follows an overview of the three stages of evaluation and how aesthetic evaluation can be controlled.
Examples
# Default histogram display


ggplot

(

mpg

, aes

(

displ

)

)

 

+


  geom_histogram

(

aes

(

y 

=

 

after_stat

(

count

)

)

)




#>

 `stat_bin()` using `bins = 30`. Pick better value with `binwidth`.






# Scale tallest bin to 1


ggplot

(

mpg

, aes

(

displ

)

)

 

+


  geom_histogram

(

aes

(

y 

=

 

after_stat

(

count

 

/

 max

(

count

)

)

)

)




#>

 `stat_bin()` using `bins = 30`. Pick better value with `binwidth`.






# Use a transparent version of colour for fill


ggplot

(

mpg

, aes

(

class

, 

hwy

)

)

 

+


  geom_boxplot

(

aes

(

colour 

=

 

class

, fill 

=

 

after_scale

(

alpha

(

colour

, 

0.4

)

)

)

)








# Use stage to modify the scaled fill


ggplot

(

mpg

, aes

(

class

, 

hwy

)

)

 

+


  geom_boxplot

(

aes

(

fill 

=

 

stage

(

class

, after_scale 

=

 alpha

(

fill

, 

0.4

)

)

)

)








# Making a proportional stacked density plot


ggplot

(

mpg

, aes

(

cty

)

)

 

+


  geom_density

(


    aes

(


      colour 

=

 factor

(

cyl

)

,
      fill 

=

 

after_scale

(

alpha

(

colour

, 

0.3

)

)

,
      y 

=

 

after_stat

(

count

 

/

 sum

(

n

[

!

duplicated

(

group

)

]

)

)


    

)

,
    position 

=

 

"stack"

, bw 

=

 

1


  

)

 

+


  geom_density

(

bw 

=

 

1

)








# Imitating a ridgeline plot


ggplot

(

mpg

, aes

(

cty

, colour 

=

 factor

(

cyl

)

)

)

 

+


  geom_ribbon

(


    stat 

=

 

"density"

, outline.type 

=

 

"upper"

,
    aes

(


      fill 

=

 

after_scale

(

alpha

(

colour

, 

0.3

)

)

,
      ymin 

=

 

after_stat

(

group

)

,
      ymax 

=

 

after_stat

(

group

 

+

 

ndensity

)


    

)


  

)








# Labelling a bar plot


ggplot

(

mpg

, aes

(

class

)

)

 

+


  geom_bar

(

)

 

+


  geom_text

(


    aes

(


      y 

=

 

after_stat

(

count

 

+

 

2

)

,
      label 

=

 

after_stat

(

count

)


    

)

,
    stat 

=

 

"count"


  

)








# Labelling the upper hinge of a boxplot,




# inspired by June Choe


ggplot

(

mpg

, aes

(

displ

, 

class

)

)

 

+


  geom_boxplot

(

outlier.shape 

=

 

NA

)

 

+


  geom_text

(


    aes

(


      label 

=

 

after_stat

(

xmax

)

,
      x 

=

 

stage

(

displ

, after_stat 

=

 

xmax

)


    

)

,
    stat 

=

 

"boxplot"

, hjust 

=

 

-

0.5


  

)